Processing, please wait
close
Free Webinar : Refresher for Bankers: All You Need to Know
Refresher for Bankers: All You Need to Know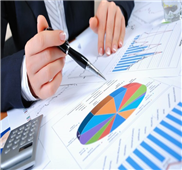 Schedule
Wednesday, December 13, 2017 | 12:00 PM PST | 03:00 PM EST
Description
Why should you attend
Areas covered
Who will benefit
Speaker
Description
This training program will provide bankers with an effective overview of the basics/refresher of accounting. With the tools reviewed in this webinar, the often complex world of accounting will be presented in a straight-forward and useful manner. This is a must for all bankers looking to improve their knowledge of the vital discipline of accounting.
Why should you attend
The webinar will demonstrate how the income statement, statement of owner's equity, balance sheet and statement of cash flows are developed and connect to each other.
The training will also cover the ten-step accounting cycle leading up to the creation of the financial statements including the rules of debits and credits, accrual versus cash basis accounting, adjusting entries, accounting for inventory and receivables, long-term liabilities and depreciation, proper analysis of the notes to the financial statements, types of financial statements and the CPA opinion. Finally, the webinar will include several hands-on examples to reinforce these accounting concepts.
Areas covered
The four financial statements - income statement, statement of owner's equity, balance sheet and statement of cash flows
The ten-step accounting cycle (business transactions to the post-closing trial balance)
Rules of debits and credits
Accrual versus cash basis accounting
Adjusting entries
Accounting for inventory and receivables
Long-term liabilities and depreciation
Analysis of the notes to the financial statements
Types of financial statements and the CPA opinion
Examples to reinforce accounting concepts
Who will benefit
Business Owners
Commercial Lenders
Credit Analysts
Loan Documentation Specialists
Branch Managers
Private Bankers
Business Development Officers
Compliance Managers & Officers
Risk Managers and Officers
Controllers
Presidents/Vice Presidents
Managers/Supervisors
Sales Representatives
Marketing Personnel
Retail Businesses Owners
Maintenance and Security Employees
Stock Room Personnel
Business Vendors
Speaker

David L. Osburn is the founder of Osburn & Associates, LLC, a business training and contract CFO firm that provides webinars, webinars, and keynote speeches for CPAs, bankers, attorneys, credit managers and business owners on topics such as banking/finance/credit, negotiation skills, marketing and management issues.
Mr. Osburn's contract CFO clients include medical practitioners, financial institutions, law firms, CPA firms, architects, real estate developers, and contractors. His extensive professional background of over 30 years includes 16 years as a business trainer/contract CFO and 16 years as a bank commercial lender including the position of vice president/senior banking officer. His banking credentials include loan underwriting, loan work-out, management and business development.
He has been an adjunct college professor (MBA and undergraduate courses) for over 30 years, teaching at Regis University and the College of Southern Nevada. He holds an MBA from Utah State University, a BS in Finance from Brigham Young University, and is a graduate of the ABA National Commercial Lending School at the University of Oklahoma. Additionally, Mr. Osburn holds the professional designation of Certified Credit & Risk Analyst (CCRA) as granted by the National Association of Credit Management (NACM).